MB360 brings us some shocking figures on U.S. retirement savings: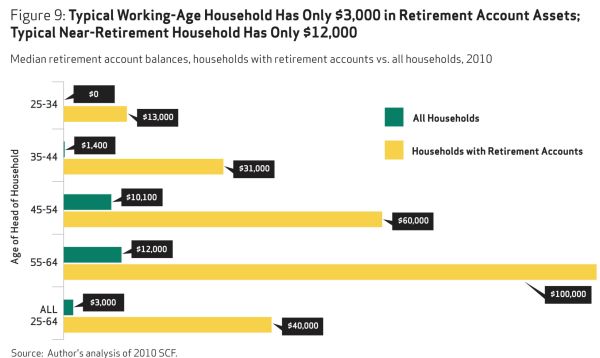 What we find in the above chart is that most Americans are flat broke when it comes to saving for retirement. You might say that those 25 to 34 years of age have simply avoided dealing with the future. However, this is the most indebted young cohort of Americans we have ever seen largely due to student debt. Yet look at the other age brackets. The median amount saved for those 35 to 44 is $1,400 (one month of rent and food in many parts of the country). Those 45 to 54 do a little bit better coming in at $10,100. Those 55 to 64? About $12,000.




In total, the median saved for retirement by all US households is $3,000.




Even those with retirement accounts (obviously a small figure) have a median amount saved of $40,000. The $3,000 figure should shock people into realizing that programs like Social Security are going to become the default "retirement plan" for millions.
But should we really be surprised? How many U.S. generations have experienced what is now considered a real, comfortable retirement, where savings combined with Social Security and Medicare allowed them to live out the last 20 or so years of life in comfort and security? One generation? The Baby Boomers are entering retirement now. Let's see how well they do. But it doesn't look good for them, not good at all.
We need to re-think classical retirement, which is not classical at all, just an ideal that one or two generations of Americans managed to enjoy, and which now, thanks to demographics and cuts to Social Security, the Great Recession, fewer pensions and rising health costs, will soon cease to exist entirely.
Posted by MB360
August 21, 2013